eRokuyo presents a Japanese traditional calendar.
Overview
It supports from 2009 to 2030.
When is taian or butsumetsu to decide marriage or engagement?
What day is good to get a new car or a house?
What day is good to move?
When is the National Holiday?
When is the consecutive holidays or National Holidays at the next year?
When is the next full moon?
When is the dog day?
What will be the condition of the sea for fishing?
When is the Tensha-nichi for start new job?
When is Ichiryumambaibi or Sanpuku for seed?
When is Daitsuchi or Shotsuchi to cut down trees?
eRokuyo is useful for your important scene.

Lineup       : eRokuyo (Paid)
Languages    : English / Japanese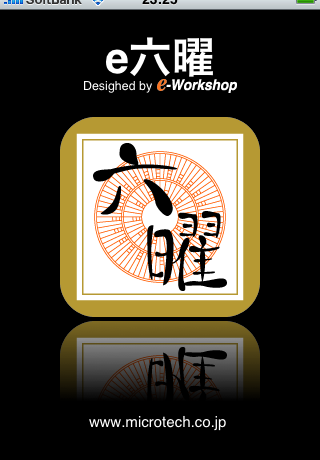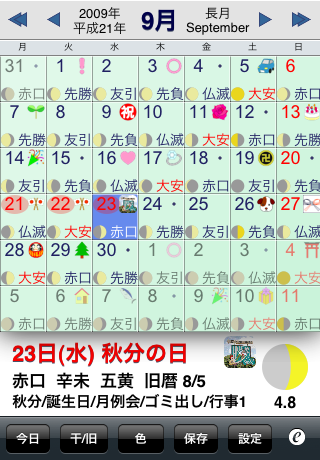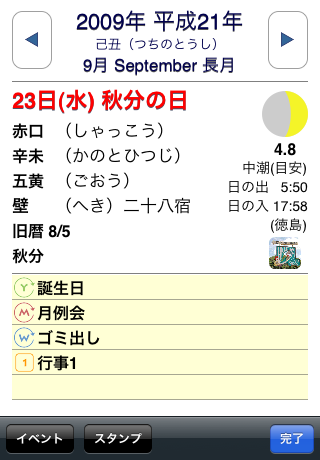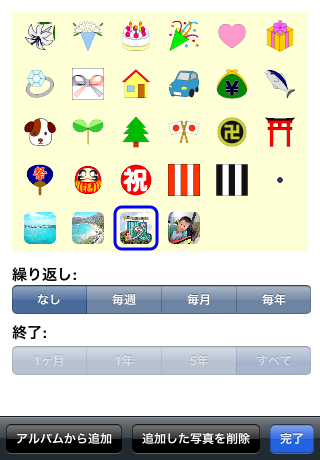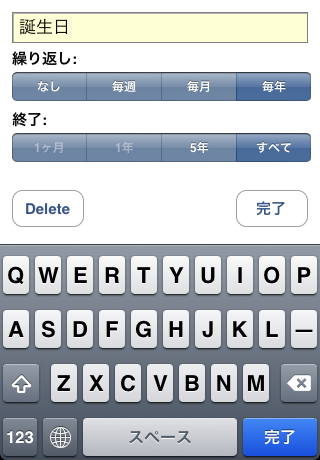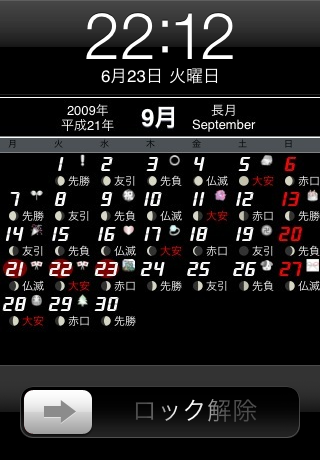 How to use
<Displey contents>
Year/ Month/ Day a day of week the National Holiday the old calendar the Rokuyo (taian, shakko, sensho, tomobiki, senpu and butsumetsu) the Kyusei (ippaku, jikoku, sanpeki, shiroku, gou, roppaku, shichiseki, happaku and kyushi) the 12 earthly branches (rat, ox, tiger, rabbit, dragon, snake, horse, ram, monkey, cockerel, dog and pig) the 10 heavenly stems (kinoe, kinoto, hinoe, hinoto, tsuchinoe, tsuchinoto, kanoe, kanoto, mizunoe, mizunoto) the Solar term (Risshun, Usui, Keichitsu, Shumbun, Seimei, Kou, Rikka, Boshu, Geshi, Shousho, Taisho, Risshu and so on.) the 5 seasonal festivals (Nanakusa, Hinamatsuri, Tango-no-sekku, Tanabata and Choyou-no-sekku) other seasonal festivals or events (Setsubun, Valentine's Day, Hachijuhachiya, Higan, Mother's Day, Shanichi, Rojitsu, International Labour Day, Shichi-Go-San and so on.) day character (Hassen, Jippogure, Tenchitenjo, Hantsuchi, Sanpuku, Sanrinbo, Fujojubi, Tensha-nichi and Ichiryumambaibi) waxing and waning of the moon (the age of the moon, a full-moon, a new moon, a half moon) ebb and flow (Oshio, Nakashio, Koshio, Nagashio and Wakashio) sunrise or sunset <Functions> Display monthly calendar. Display detailed daily information. Jump to specified year or month. Jump to today. Show/Hide the 12 earthly branches (Eto). Show/Hide the old calendar (Old). 10 background colors. (Monthly calendar) Set specified stamp each day. (30 icons) Save the monthly calendar image to your Photo Albums. (day/rokuyo/moon/stamp only) Display version information.
Monthly calendar
Tap the number of the month to display picker, and you can easily to change the year or month.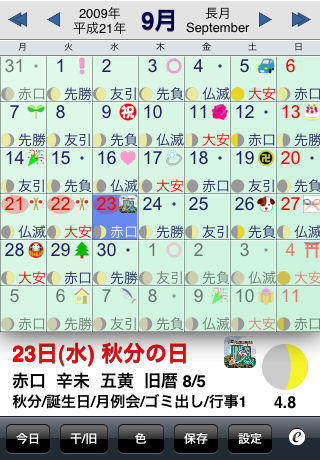 Daily information
Tap the daily information, you can easily to change daily information detailed or simple.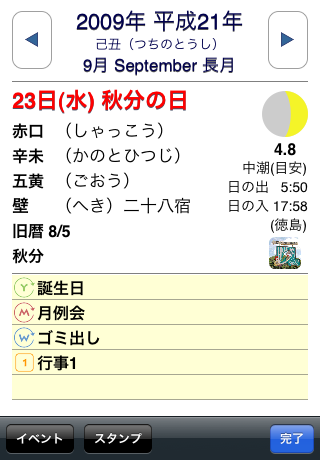 Tool bar
Tap the Save button to save the monthly calendar image to your Photo Albums. Tap the Color button to change calendar background color. (10 colors)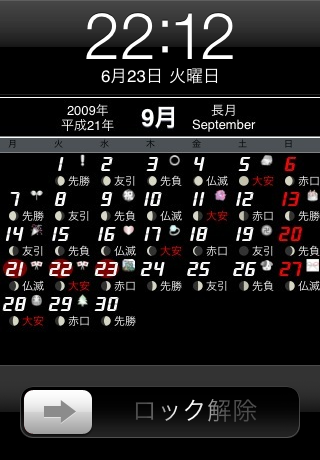 How to buy
Please click the following icon to buy the application program with App Store.